Legally Wedded
Will Morgan and Josh ever be able to pay for college, or will getting legally wedded be their only option?
Morgan Clark is desperate. With just her senior year to go at Clarendon College and her scholarship up in smoke, she suddenly finds she can't qualify for financial aid. Until Morgan finishes and can work full time to pay their rent, her sister can't even start school.
Josh Hyatt is desperate. Without his degree from Clarendon he won't be able to join his girlfriend in their dream career which she's already begun, and he can't qualify for government grants thanks to his wealthy estranged father's interference.
Morgan, meet Josh. Josh, meet Morgan. Are they desperate enough to get legally wedded?
BUY (e-book, paperback)
Asked & Answered
He asked, she answered—a definite no. Now, seven years later, they're facing off in court. Sparks will fly.
Becca is scared. Sure, she's crazy about Carson, but she's young, and with a proposal looming, she finds advice from the only person she can, her amateur-psychologist hairdresser.
Despite his plans for the future being completely thrown off, Carson can't imagine life without Becca. But when the proposal goes horrible wrong, neither one of them expects to end up facing the other seven years later—in court—as enemies. And with Carson nearly engaged to his boss's daughter.
Seeing each other again is the last thing either of them expected when they signed on to the land dispute case. And working through the long-buried feelings they have for each other is a huge distraction, with a side of Caramel Frozen Hot Chocolate. After all, they're supposed to be representing clients, not falling legally in love.
BUY (e-book or paperback)
Camilla Sweeten is serious about her job in the County Attorney's office. She's even working up the courage to ask her boss to consider her for promotion to deputy.
Then, into court walks the gorgeous Zane Holyoake, and disaster strikes—in the form of a total brain fog right in the middle of her closing arguments. In front of both her boss and the meanest bear of a judge in the county, Camilla hears herself saying, "Like, I totally made my point," as though she'd flown in from1980s California in a time machine airplane.
Now her boss will never consider her for deputy—especially since Zane turns out to be a new lawyer, possibly brought in to steal her dream job.
But when a notorious criminal is caught in their county, Camilla must focus on getting the thief convicted and not on Zane, who smells heavenly and is bent on distracting her with lunch offers and wacky Boy Scout stories that may melt her many resolves.
It's going to take incredible willpower to ignore this attractive nuisance.
BUY (e-book or paperback)
Dowdy art exhibit coordinator Ava Young is happy with her man-suits and sensible clogs. She likes the way they clip-clop on the museum's tile floor. But they don't win her any lovelorn looks from her office crush. In fact, the handsome new guy calls her "sir" when they first meet. Oh, well. She's always known the only way a guy would take a second look at her was if she was the only person in the room. And on fire.
But after her workplace crush devastates her by, frankly, calling her something super-duper mean, Ava is ready to make some drastic changes inside and out, even if it means giving up chocolate, or taking hilariously out-of-date but strangely wise-sounding advice on femininity from a 1959 book on "How to Snare a Modern Man."
Either way, she'd better hurry because when a priceless art exhibit gets a theft threat on Ava's watch, a billionaire bachelor and a handsome FBI agent will be taking a good, long look at the art.
And at Ava.
BUY (e-book, paperback, and audiobook)
Lisette Pannebaker speaks five languages and has a brilliant business plan–personal language immersion. Clients can hire her to shadow them and speak all day in any language they need to learn for business or travel–whatever. But there's a major hitch: she's far too pretty. Clients with less than honorable intentions sign up just to have Lisette at their side. Solution? A make-under. Way under.
The bad wig, icky makeup and puffy sweaters work like a charm. None of her male clients show her the least bit of interest. Lisette's totally relieved.
Until…Erik.
Erik Gunnarson is charming, kind, and smart–everything she's ever looked for. Every day as his tutor is making her fall for him more. Even though he seems to have a secret, and she's sworn she'd never date a client, Lisette is tempted to shed her disguise–although it could mean jeopardizing her career.
BUY (e-book, paperback, and audiobook)
If he wants to win this goddess, he'll have to break her curse.
Blake Wells seems to have it made: the wealthy bachelor life, Kennedy-esque good looks, rising political star. The tabloids love him. But one barracuda date after another drains his hopes for finding a girl who's sincere.
So when his Chief of Staff insists he take a beach vacation, Blake doesn't go expecting to meet Cressida, the perfect girl. Shazam! She's seriously a goddess. And even though she protests that she's bad luck, he's a goner.
But when a string of crazy (albeit hilarious) coincidences threatens to sink his career, Blake must choose whether to save his campaign or save the love of his life.
If he wants to get this goddess, he'll have to break her curse.
BUY (paperback)
Super Daisy! is the story of Daisy Blaine, a disgraced former beauty queen who has to return to her small Idaho town of Prairie Grass, where the potatoes grow and the mayor (who she finds herself stuck working for) is a corrupt old louse. It's a career and social dead end. The only guy she could feasibly date, the handsome Cliff Calloway, doesn't know she's alive, and Daisy's long-time nemesis Natasha Willikie is determined to keep it that way. It all looks bleak for poor Daisy, until one day she's driving home from work–lightning strikes, she crashes her jeep on the bridge, and sees a "super" vision. In that moment, everything changes. What's a small town girl with super strength to do?
BUY (e-book and paperback)
Praise for Super Daisy!:
"Best novella I've ever read. This was a cute, hilarious, random, sweet read. I'd recommend it to anyone who needs lighthearted afternoon! Quirky little jokes and a fun love story are weaved throughout." — :-/, Amazon Review
"I laughed and cheered all the way as Daisy dealt with her super powers and her long-time love interest. Delightfully written." — Carolyn, Amazon Review
Buck Cooper, huge Texas nobody, goes to Japan and accidentally becomes a sumo wrestler.
Praise for BIG IN JAPAN:
"I don't just like it I love it. A novel everyone from middle aged cowboys to adolescent girls are sure to love." –Eric Bishop
"I purchased the full book off of reading a sample. By the end of the day, I was half way through the story, caught up in the 300 pound main character, Buck, who joins his parents on a business trip to Japan. Buck is the perfect awkward unsung hero, but his quirks are endearing, and his character very relatable. Great humor throughout as well, some serious thought-provoking events, as well as a sweet romance. Really, everything rolled into one. " –Heather B. Moore, award-winning author
"Griffith gives us a different picture of Japan than most of us have previously seen. This is not the cherry blossoms and tea houses version, but the crowded shops, strange food, political maneuvering, and grunginess of that country's national sport. Murder, blackmail, and danger create an intense plot that will keep many readers on the edge of their chairs or burning the lights far into the night. Though there is a nice romance included in this novel, I wouldn't assign this one to the Romance genre. It's more high action sports drama. It's also a study in human ethics and has a broad appeal to men as much, perhaps more, than to women."         –Jennie Hansen, Meridian Magazine
"In 'Big In Japan,' Griffith weaves a delightfully entertaining tale of change, bravery and true love in the life of a lonely young man trying to overcome an austere and challenging environment. … Readers will be engaged as they follow the tragedies and triumphs of an endearingly kind and honest young man in the 'Land of the Rising Sun.'" —Deseret News
"I finished reading your book yesterday while driving (well, obviously I was just riding and not driving, that would be dangerous…) home from California.  I had to use the little visor light to finish after it got dark which always annoys [my husband], but it was too good to stop before I knew how it ended!  What a great story!" –Charlotte Alexander
(Previously published by Spring Creek Book Company as Delicious Conversation, 2007)
A modern-day update of Jane Austen's "Persuasion," Chocolate and Conversation is full love love–and chocolate recipes. Read it with a cup of cocoa!
Susannah Hapsburg is totally ready for Plan C. Plan A was to get married at 22 and have a passel of kids. Still unmarried and 31, that option is out. Plan B was to work her way up the corporate ladder. However, the company she devoted eight years to just went bankrupt, giving her a bad taste for the corporate world. Which leaves her with Plan C.
Plan C involves chocolate.
With the support of friends, Susannah puts her future on the line to open up downtown Salt Lake City s first all-chocolate café, The Chocolate Bar, a place where scrumptious conversations and delectable desserts abound.
In the midst of all this, social turmoil hits Susannah when she catches the interest of the city s most eligible bachelor just as her long-lost love returns to town–with intentions of marrying anyone but Susannah.
Can Plan C offer Susannah her just desserts?
BUY (e-book, or contact the author for a paperback–limited quantities)
ANTHOLOGIES
Six Award-Winning Authors have contributed new stories to A Timeless Romance Anthology: Under the Mistletoe Collection. Six contemporary novellas, all adding sweet romance to the Christmas season.
Jennifer Griffith's entry: FIRST AND LAST DATE
Pilot Juliet Law has been in a holding pattern, dating the wrong guy, until she gets a holiday shake-up: old flame Tag McClintock e-mails her to ask for second date—after ten years. Their first date, back in high school, had been an unmitigated disaster culminating with Pepto Bismol and the police. Still, Juliet would have gone out with Tag again the next day—and the next—had he asked. So now that he's finally popping up in her in-box again, Juliet must decide whether to say yes to the date, even if it puts her at risk of another decade of carrying a torch for Tag McClintock. Will their second date be their last?
BUY (e-book)
Zombies and vampires and ghosts….oh, my!
From fae assassins to subjugating the dead, Strange and Lovely is a collection of short stories that seamlessly blends spine-tingling chills and swoon-worthy romance.
This young adult paranormal anthology of supernatural creatures from ten talented authors serves up short stories with heart-stopping storytelling that will haunt you long after you've put it down. Open the pages and discover worlds colliding and struggles for life and love. You'll find a tale of a young incubus desperately fighting his nature (and diet) alongside Ashley who has a choice—run from the vampires who will stop at nothing to kill her, or become one of them. Dipping deep into romance you'll find enchanting assassins too beautiful and deadly, and a touching tangle of a love story between an angel and a mermaid both struggling to make their love last. This book will be sure to make you believe that even in the darkest of nights love can find a way.
If you love tales of paranormal romance or supernatural thrills but can't decide which ghostly or otherworldly creature to focus on, this is the perfect book for you.
Best-selling authors such as Jenni James, Amber Argyle, Stephanie Fowers, and Cindy M. Hogan craft thrilling new stories filled with engaging characters, while others, like Christine Fonseca, Jennifer Griffith, C. J. Anaya, Jennifer Bryce, M. Leigh Marrott, and Rebecca Gage, explode off the page with unique takes on familiar supernatural favorites.
BUY (e-book or paperback)
Here are some previously published and out of print titles, but maybe still around somewhere if you're a good used-books-sleuth.
Delicious Conversation (Spring Creek Book Company, 2007)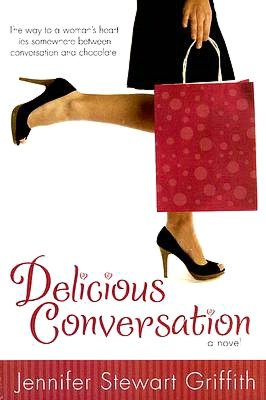 A Little Sisterly Advice (2006)
Choosing Mr. Right (2004)